SENDIASS Annual Report 2019/2020
Operational Functions
Note – Rotherham has 8,938 SEND CYP
Rotherham has 2,328 children and young people aged 0-25 on an EHC plan
Number of New Referrals to the Service (including parents/carers, children and young people)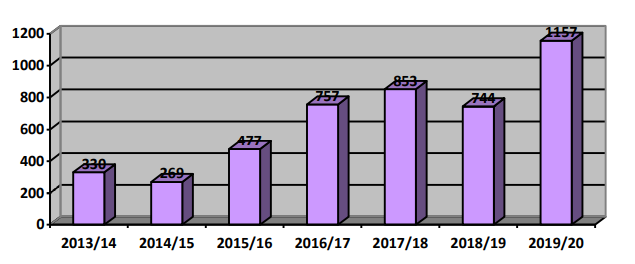 This indicates SENDIASS has offered IAS for 12.94% of CYP with SEND in Rotherham if each referral to the service reflects a new service user. This is an increase from last financial year (9.9%)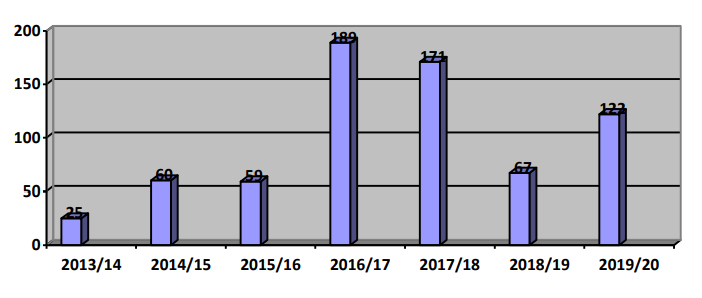 Number of calls to the service dealt with as a contact only (parents requesting generic information to which a factsheet can be post for example)

Number of referrals to the service with no special provision made and no SEN recorded

Number of referrals broken down into gender

Nature of new referral 2018/19 (left) compared with Nature of referral 2019/20 (right)
2018/19 Financial Period

Period 2019/20 Financial Period

Number of ongoing referrals from previous period

228

288

CYP on SEN Support

322

394

CYP with an EHC Plan

290

385

Level of commitment (ongoing and new referrals)

1:223

2:341

3:152

4:22

Remainder yet to report

1:377

2:303

3:257

4:18

Remainder yet to report as they are still open or were a

contact only

Number of meetings supported

876

42 mediation

23 exclusion

17 map

212 school or college based

24 LA and parent

5 Health only

527 Service user only i.e. to provide advice/ put views in writing/ prep for other processes ie. Mediation or tribunal, prep for meetings that can't be supported due to capacity/prior commitments or due to parent being happy to self- advocate etc.

Tribunal related 21 Tribunal hearing support 3 days

917

65 mediations

21 Exclusion including IR

63 Map

249 School or college based

5 LA and parent

2 Health only

438 Service user only

30 Tribunal related

Tribunal hearing support

1 Core group

16 Multi-agency re: not accessing education 27 Other (ie. Professional planning meetings or visits to schools)
Ethnic Minority Monitoring
The 2011 census indicated 8.1% of Rotherham's population are from black and minority ethnic backgrounds. The main ethnic group being Pakistani and Kashmiri (3.1%). 86% of referrals to the service are from White English/British background. 3.8% are recorded from Pakistani background, 0.2% from a Gypsy Roma background. This data suggests there is a decreased access to SENDIASS from the Black and Minority Ethnic population from last period. More work needs to be done to publicise the IAS offer around this group.
Gender
While boys count for 50.7% of Rotherham schools population, in this period boys accounted for 70% of referrals to the service. This over representation of boys over girls has historically been seen nationally by SENDIASS services.
Looked After Children
Service staff work alongside colleagues from Social Care. In this period the Service has received 11 new referrals involving a 'looked after' child (0.9% of new referrals to the Service which is a slight decrease from previous year of 1.34%
Referrals to Special Educational Needs and Disability Tribunal
8 referrals were made to SENDIST against Rotherham LA within this timescale.
During this period 14 service users contacted the service with the sole purpose of gaining information, advice and support around SEND Tribunal. This is a small reduction from last period. 50 service users also specifically contacted SENDIASS around Mediation a large increase from last year (27), this may indicate that processes and the language used is becoming more common place and service users have more of a desire to work towards an agreement without the use of tribunals. As the service supported in 65 (an increase from last financial year from 42) mediation meetings, this suggests that calls coming into the service around Tribunal are also happy to try mediation first following SENDIASS advice. Advice given around Tribunals could include; the process and timescales, the need to consider mediation where necessary and how to action this process, the options available which may not result in a tribunal. This may include ways forward such as: looking in detail at the reasons why the LA has made the decision they have and how this could then be used to support processes in the future, utilising the timescales to appeal wisely to ensure additional evidence is available to support ongoing discussions with the LA via mediation or informal discussions, considering what the 9 support currently looks like for the child or young person at SEN Support and offering advice and support around further discussions with the school or setting.
During this period SENDIASS supported 3 parents through formal Tribunal processes.
Formal Mediation
During this period 67 mediation cases were entered into by the LA. SENDIASS supported 65 cases with mediation meetings although a few children and young people were also supported at these meetings too. This is an increase from previous period (42). Support at mediation may include things such as; preparation beforehand ensuring the service user has a clear understanding of the process, possible outcomes, and clarity around their situation and points to share/questions to ask. It could also include encouraging self-advocacy and where appropriate asking questions of the service user to prompt their thought process based on prior knowledge and discussions. SENDIASS also acts as a point of reference to the legislation around the EHC, mediation and appeals process which may consist of reminders around the relevant legal tests which would need to be considered if a tribunal were to be lodged.
Case work development
Parents contacting the Service for the first time are able to have an in depth conversation with Sarah Lowe (SEND Advisor) about their concerns and receive detailed advice and information, this has been followed up in writing and posted to the parent. The majority of cases received a service within 5 working days.
Ongoing parental case work support is provided by Kerry Taylor and Rachel White. Steven Wadsworth and Maria Ridge have also supported parents during this period. Sally Thomas and Louise Mulligan/Leanne Taylor and Maria Ridge provide case work involvement for children and young people. A significant amount of casework involves actively engaging with parents/child/young person, schools and LA staff to prevent or resolve disagreements. The volume and complexity of case work has increased during this period. During this period 56.8% of parent service users went on to require more in depth 1:1 support in the form of ongoing case work involvement, following the initial in-depth conversation, advice and follow up written information being received. This is a significant increase compared to last period (31.6%). This information is supported by the level of commitment at level 3 in particular, the number of meetings supported and increase in mediations shows that case content has become more complex this year than previous years. There are also more cases this year being dealt with as a contact only.
Exclusions:
Over the April 19 – March 20 period, the service has been contacted by 39 service uses requesting information, advice or support around Exclusions from school. (This is down from previous 2 years)
Education, Health and Social Care:
Since the SEND reforms, the Service has extended duties to provide IAS around Education, Health and Social Care. The following chart provides information relating to each area service users contacted the service for. However it is worth noting that although only 3 service uses specified it was health issues they contacted the service for, 26 other service users contacted the service specifying the impact of health needs was having on education.
Breakdown of cases around Education, Health and Social Care
Breakdown of topics for education related cases
2018/19 White and 2019/20 Purple
(note this doesn't include some cases which were dealt with as a contact or email/ website and so didn't provide all information)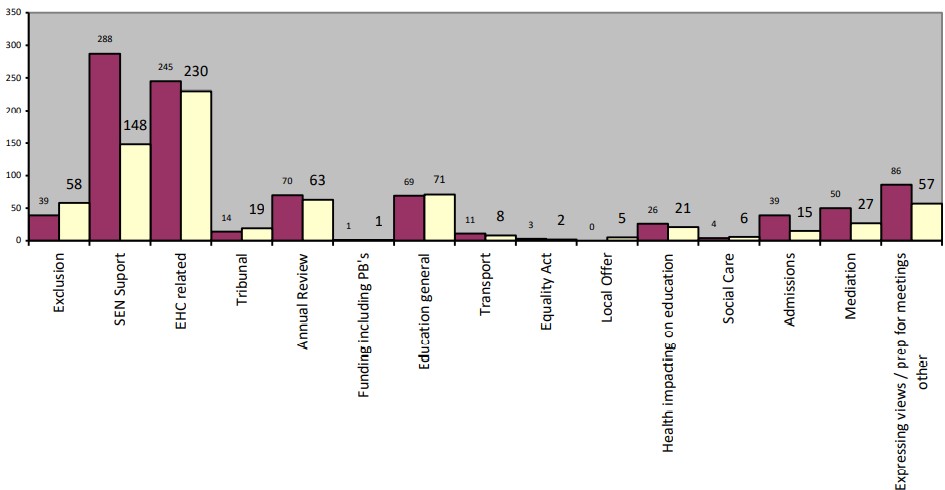 Note 2,328 children and young people have an EHC at the time of writing this report in Rotherham. This indicates that SENDIASS supported with 14.1% of the cases who have an EHC.
Breakdown of EHC related cases.
As the number of cases who are EHC based is significantly higher than most other areas and topics it is useful to see how this is broken down further.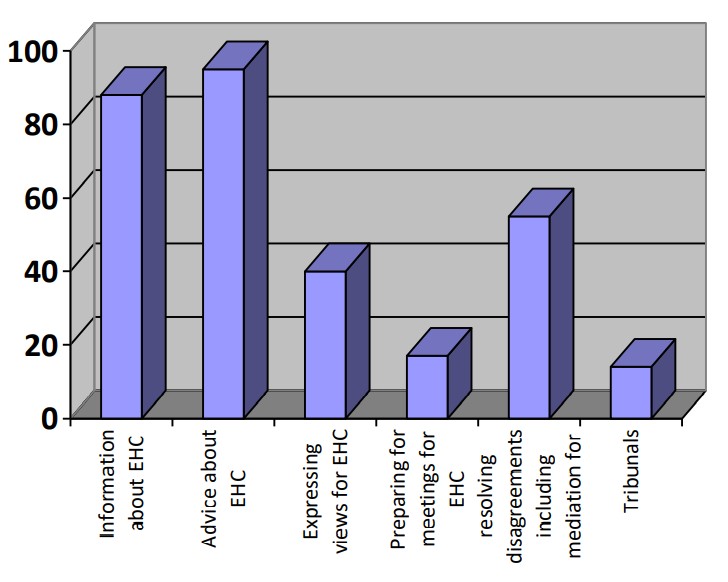 SENDIASS Workshops
During this period 69 parents attended 6 workshops on the topics of SEN Support, Exclusions and Annual Reviews. Feedback from these workshops was gathered.
Participants were asked the following questions;
The training was delivered at an appropriate pace
The information shared was clear
The training was helpful to your situation
You learnt new information that was relevant
The training was delivered in a safe space
You would recommend the training to other parents/carers
All returned evaluations stated that they either agreed or strongly agreed with the above questions with only 2 placed in the 'disagree' column. Below are some of the comments left by participants.
It was great to be spoken to in plain English

Well presented and informative

Found out lots of useful information that I didn't know how to reach out to the teacher in a good friendly manner
Working with Children and Young People
2019/20

Number of new children (0-16) accessing IAS

45

Number of new Young people (16-25) accessing IAS

39

Number of Children and Young People involved in the Bid 5 project

145 in total
76 of whom have SEND
Gender of Children /Young People Service Users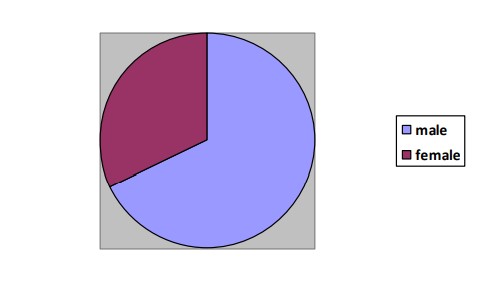 Nature of New Referral for children/young people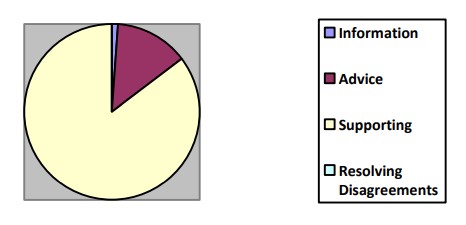 CDC related work
During this period a significant amount of time has been spent working with Children and young people with SEND to gather their voice and look at creative ways to do so. This work has taken place through the CDC contract.
Within the CDC bid we specified that we aimed to trial a range of innovative approaches to engage young people in co-production, in order to establish good practice in ensuring young people with SEND, and their voices, influence policy.
We planned to develop the skills and confidence of a core group of children and young people with SEND (The TiME Team Monitoring Group) to be ambassadors for coproduction.
We also wanted to find ways to engage more young people with SEND to have a voice. The TiME Team wanted to make a film to support this work, so this would become a focus of the work and a way to promote the work following its completion.
The project worked with;
Total parents, siblings, volunteers: 29
Total Young People involved in activities: 145
Number of those Young People identified as having SEND: 76
The outcome of the work resulted in a film made by children and young people with SEND which can be found on the following link https://youtu.be/WucVcYZNpSA and two reports which accompany the film, bringing the work to life. This work will continue through to next financial year.
Information and Publicity
Schools have a duty to inform parents and carers of SENDIASS at the time when SEND is identified. All schools, settings and SEND related services have received copies of our SENDIASS postcard to share with parents, children and young people. The service details are also placed on all LA letters with regards to the EHC process. There were no specific publicity projects using outside agencies during this period but staff continued to publicise the Service through Presentations to; ASC parent group, PEST early years group, Special Educational Needs Coordinator's (SENCO's), and Early years SENCO's.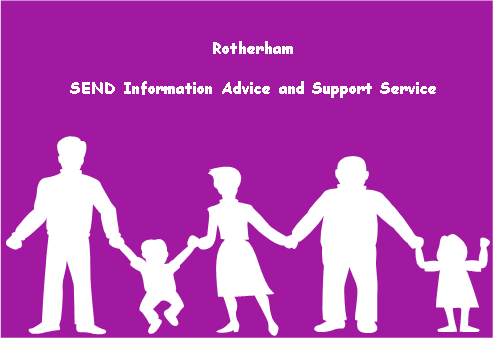 Website
Rotherham SENDIASS has its own dedicated website which went live on the 1st May 2015. The Website is also placed on the Local Offer. Updates are added when appropraite.
Summary of terms used:
Sessions: Included on multiple reports, sessions track how often the site was visited, and what actions were taken during each visit. A session defines a period of consecutive activity by the same use, and persists until a user stops interacting with the site for a period of 30 minutes.
Page views: measures how often a specific page is visited. (Example If a visitor visits Page A, goes to the homepage, and then comes back to Page A, it's counted as two page views)
| | | | |
| --- | --- | --- | --- |
| | Apr-2018 to Mar2019 | April 2019 – March 2020 | Change |
| Sessions | 6,358 | 10,586 | 66.49% increase |
| Users | 4,425 | 7,435 of which 83.7% are new users to the service website. | 68% increase |
| Page views | 15,829 | 23,617 | 49.2% increase |
Top five pages:
Apr-2018 to Mar-2019

April 2019 – March 2020

Page

Page Views

Page

Page Views

/

3,434

Rotherham SENDIASS

4,229

/contact us

2,183

Contact Us

2,898

/parents

981

Information for Parents

1,543

/children

978

Reviewing an EHC plan

1,480

/support

757

EHC assessment

1,325
| | | | |
| --- | --- | --- | --- |
| Grouping | Users | New Users | Sessions |
| Organic Search | 6,042 | 5,868 | 8,512 |
| Direct search using SENDIASS web address | 1,186 | 1,165 | 1,603 |
| Referral from another site | 208 | 142 | 331 |
| Social via social media links | 127 | 122 | 140 |
| | 7,563 | 7,297 | 10,586 |